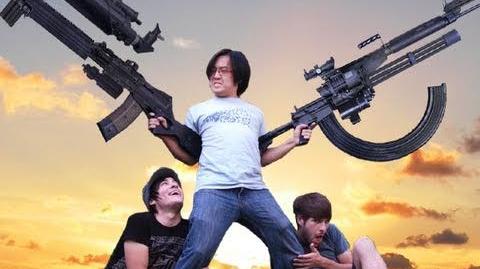 Huge Guns is a short film produced by Rocket Jump and directed by Freddie Wong and Brandon Laatsch. It also features SMOSH stars Ian Hecox and Anthony Padilla.
Freddie, Ian and Anthony find a huge gun sale where they purchase unbelievably sized guns. They not only show off their new instruments of destruction, but also shoot them like crazy as well.
Cast & CrewEdit
Freddie Wong
Ian Hecox
Anthony Padilla
Behind the ScenesEdit
Ad blocker interference detected!
Wikia is a free-to-use site that makes money from advertising. We have a modified experience for viewers using ad blockers

Wikia is not accessible if you've made further modifications. Remove the custom ad blocker rule(s) and the page will load as expected.